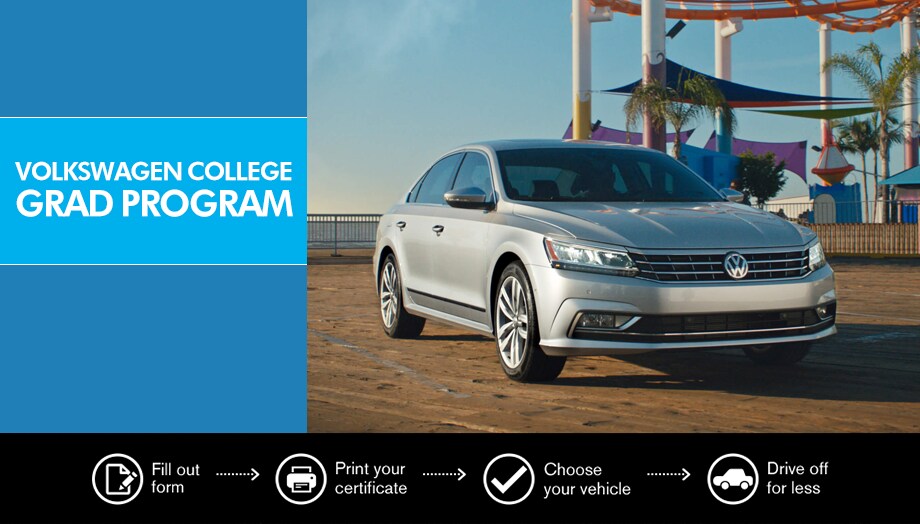 We hear congratulations are in order. We can do better than that! Receive $1,000 Bonus when you purchase or lease any new Volkswagen vehicle! 
We think graduating college is an achievement worth rewarding. That's why our 
Volkswagen dealership near Springfield, MA
is offering you
$1,000 Bonus when you purchase or lease any new Volkswagen vehicle through Volkswagen credit
. Thanks to the Volkswagen College Graduate Program, you could be eligible for big savings on the new Volkswagen you've been wanting and start the next chapter in your life on the right foot -- or the right wheels in this case.
Whether you're a first-time car-buyer and need assistance or you know exactly which Volkswagen it is you want, our expert staff would be thrilled to help out. We'll break down the process to make sure you fully understand the financial aspects, and we'll be more than happy to answer any questions you have along the way. Our Volkswagen dealership is near great schools such as
Springfield College
,
UMass Amherst
,
Amherst College
,
Mount Holyoke College
and more, and we'd love for every graduate to come pay us a visit.
Program Eligibility:

Must be a U.S. Citizen or Permanent Resident
Must be within six months of graduation date or have graduated within the last 24 months
Must have a full-time job, or have a written commitment from your future employer

Once you bring in your proper documentation, our staff can get the process started and have you on your way to driving home a new Volkswagen. All you'll need to provide us is:
Your valid driver's license

Proof of insurance and agent contact information

Copy of degree or transcript and contact information for your college or university
Proof of income and full-time employment as well as contact information for a human resources or payroll representative

Two completed personal references

If you have questions regarding any of the materials, please reach out to our staff. Our goal is to make the car-buying process simple and stress-free, so we'll work hard to simplify your experience any way possible. Come visit Northampton Volkswagen today and hop behind the wheel of a stunning new ride!